Homelessness
22.2.17 -
Today, I had the pleasure of meeting a man on a warm July day, who was sat on the floor in an underground, in a purple stained sleeping bag. He had on his head a worn baseball cap, a winter jacket that was probably for all the year round. And a paper cup in front of him to collect money for food and water.
Why was he there…..? his response a difficult issue in his life that contributed to him becoming homeless.
Now as I shook his hands and looked at him. I felt that somehow that even though this man had only the clothes in his plastic white bag, and perhaps the money that he makes day by day. Somehow this mans eyes related to me that he was at peace. He was a very pleasant and calm gentleman. As we talked and listened to him, we both felt comfortable talking to him and it was though we had known him for a while
He gracefully took the Gift package and even offered the water to his friend.

As we pass through in this World, God calls us to care for each other and to think of others.
We have to look after our brother and sisters in this world, whoever they are. Jesus WOULD.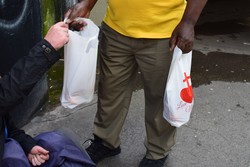 (©Photo used with Permission - to only be used on the Carterknowle SDA Website)