Pastor Carlton Douglas Biography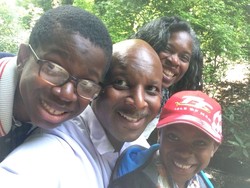 Pastor Carlton Douglas has served as an ordained minister since 2008. He has been married to Patricia Douglas, also a minister, for 16 years. They have two boys, Nathaniel 7 and James 12. Pastor Douglas served in the Stoke-on-Trent, Birmingham and West Bromwich districts before arriving in Sheffield in 2012. He come to us after serving the Barnsley, Chesterfield and Sheffield Burngreave churches. He is currently undertaking a part-time MA course in leadership at Andrews University. He has a passion to develop people to their greatest potential and believe leaders are not born, they are made. By achieving this the work of the gospel will be better proclaimed and Christ will return for a people prepared.
Pastor Douglas strongly believes that the church should be active in the community, using its talents to minister to all nations, cultures and languages.
Finally, He enjoys running, swimming and outdoor activities and along with his wife has a desire to see children experience the love of Christ.