VISION
To serve as Christ served.  Our commitment and drive is to show the love of God through practical solutions, which will aid physical, social and spiritual welfare.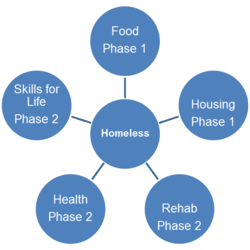 Phase 1 - 2017

Feed 20% of Sheffield's homeless population in 2017-2018. On average this equates to feeding 300 people across 6 Sabbaths per year.
Rehousing assistance. Partnering with recognised Housing Associations and Homeless Shelters.

 Phase 2 - 2018

Health & Wellbeing assistance. Partnering with recognised Health Partners
Skills for Life. Partnering with Government bodies to provide assistance with Education and Employment.


The Team
 The team consists further of a pool of volunteers that commit their time to any given stage of the program.